Hello, people of RK.
As I mentioned earlier, I went ahead and had that ankle surgery. So I'm still wrapped up and restricted from walking without crutches. That's quite a workout, more than I thought. But the ol' heart is still beating until I ultimately die of a stroke. That's how I predict my death for some reason.
Lots of WWE happenings and as JR would say: "Hey, don't be stingy the sauce, bitch!" then JR would say "Business just picked up!" because WWE fired Mr. Ken Kennedy, one of the highest potential players in the locker room.
MISTEEEEEEEEEEEEEEER. Gotta think of a new name. Name.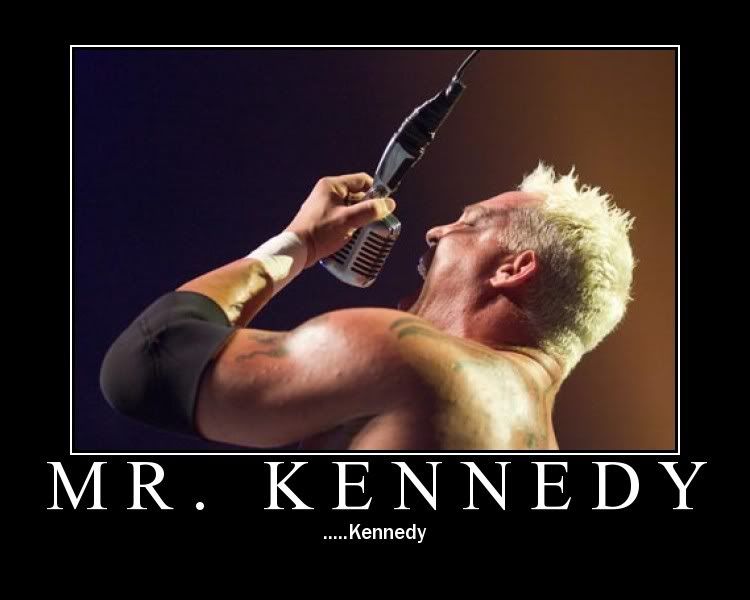 So Ken's gone, just like that. Poof.
One thing is for sure, something went down over the last couple of days. He was JUST on RAW Monday for fuck's sake. He was tossed, abruptly into the World Title picture in a very sloppy way and he got injured… again.
According to the news, he could work through the injury, save a couple of house shows. So what happened?
You don't just throw an investment like Kennedy away like garbage. This guy actually has a movie paid for by Vince, BEFORE he's even held a major title. What does that tell you? They basically bailed on a huge angle that had Kennedy beginning a feud with Orton.
Kennedy was shoved into the title picture, got injured by the obviously sloppy Batista, (according to some original reports) who is known to injure people and then fired right after the show? Really? WTF?
Four days. What the hell happened in four days? It's real easy to think that Kennedy injured his hand, so fuck 'em. That doesn't make good business sense, especially for such a small injury. Vince does things that don't make sense but he's not stupid. He wants a return on his investment.
Maybe we'll never know, but I have a hunch that we'll be seeing him soon. Probably in a drunken rant on MySpace or something. We know TNA is chomping at the bit on this news. Can you see Kennedy taking TNA up a notch? Neither can I, but you never know.
I've always been happy to see Kennedy, but he's by no means the next big thing. He's been given plenty of chance to show his glow. He's still far too green for my taste. He's not that great of a talker, he's just loud and confident. However, he has the "it factor" that keeps the fans screaming for him.
There's been some rumors of backstage scuffles with Orton,
The rumor is that Ken Kennedy and Randy Orton had a minor backstage altercation at the Raw taping on Monday. Orton was angry at Kennedy for dropping him on his shoulder during a back suplex in the ten-man main event tag team match. If you watch the match below from 1:07 to 1:22, you can clearly tell that Orton was in pain and angry at Kennedy. He even tried to punch him. It was the same shoulder that Orton broke during his Last Man Standing match with Triple H last year. Kennedy had also been working rather stiff with the other people on Orton's team, which led to Orton warning Kennedy that he had to be more careful whilst wrestling. Of course, Kennedy was the one who wound up being injured during the match as he hurt his wrist whilst taking an RKO.
Who knows how true this is. But here's the match so you can watch for yourself.
I guess Orton looked kinda pissed around 1:27, but it looked like a standard move to me. It actually looked like Kennedy injured himself after hitting that move on Orton. It still had to be more to this story. Sure is fun to speculate.
Here's the latest 'official' backstage update as I was writing this.
The early word on why Mr. Kennedy received his surprising release from World Wrestling Entertainment yesterday was that in addition to injuring himself yet again, his nearly injuring Randy Orton was the straw that broke the camel's back.

Kennedy returned to RAW this past Monday night after spending ten months on the shelf rehabbing a badly injured shoulder. In his first match back, during a spot in the main event with Randy Orton, Kennedy injured his wrist.

However the more important issue in the eyes of WWE management was that Orton nearly re-injured his bad shoulder as a result of an errant move on the part of Kennedy.

According to sources, Orton and Kennedy had words backstage after the show, although it was said it wasn't heated. Apparently Orton very calmly dressed Kennedy down, explaining he has to be more careful so he doesn't injure anyone else in the ring.
That would REALLY suck if this is because Kennedy hurt Orton's feelings. I mean, seriously? He ALMOST injured Orton so they shit-can him like dirt off the bottom of your shoe?
BTW…
Linda Hogan, desperate housewife.
Linda, Linda, Linda.
Something tells me that SHE is the true problem here.
This news comes from one of my forum members, I'm not sure where he got it from.
We've got yet another chapter in the ongoing Hogan family saga and this one might take the cake. Last week, gossip writer Perez Hilton posted a video chat he conducted with Brooke Hogan. Brooke spoke to Perez about her mother Linda's wild lifestyle and how she doesn't approve of Linda's 19-year-old boyfriend, Charlie Hill. Now, Linda Bollea is firing back at her daughter and it's getting nasty. Linda calls Brooke a liar for claiming her breasts are real, talks about Brooke's sexual relationship with her "pot head" rapper boyfriend and accuses Hulk Hogan of doing drugs with Brooke's boyfriend in the recording studio while Brooke was working on her upcoming album. Linda's PR rep Gary Smith issued the following statement on Linda's behalf to PerezHilton.com:

"Perez, if Brooke continues to spew lies on behalf of her father's lame attempt to distance himself from the reality that he is no different from the homicidal OJ Simpson, Charlie will be forced to put aside his paramedic/firefighting career path and release an album called "Redemption" which will easily surpass any of Brooke's records sales.

Brooke has always had a problem telling the truth. If it is her claim that her breasts are natural or she hasn't been banging the crap out of the pot head $tack for the last 3 years, then her comments of Charlie being a year and a half younger than her are again a complete fabrication (they are 4 months apart). She only judges Charlie because of his long hair and age, Linda doesn't judge.

Here are some cold hard facts; these people who say Linda is doing drugs are friends of Hulk Hogan. Brooke is Hulk's only remaining mouthpiece and a pawn in his game of control. Linda will walk into any drug testing facility and take a random test and the truth will be she is clean. Put your money where your mouth is Brooke aka Hulk. Brooke "thinks" she's doing drugs is a hypocrisy when her father and $tack are rolling and Smoking joints together in Brooke's recording session, and Brooke knows it. As for Charlie, he is an accomplished Spring board diver (4th in the Nationals), eagle scout and certified captain in commercial boating with his bigger goal of joining the fire department. Linda's definition of a good time is hitting a 8:30 am mass at St Max's grabbing some Cuban food at Versailles (her fav). We aren't here to kiss anyone's ass but Linda would love spend a fun California day with Perez with or without that famous garlic chicken, but you have to go to mass.

Gary Smith on behalf of Linda Hogan
Global PR Inc"
It just seems to me like Linda is completely out of control. I know that the word is, Hulk was banging young girls, including one of Brooke's friends, and Linda is scorned and all that. But damn, why is she dragging her own daughter's name through the mud?
I can just image what Linda's to-do list looks like.
What a bitch. I don't stick up for Hulk, because he's probably the biggest douche bag in history, but Linda sure has learned from the best. I lost respect when she asked for child support for a 16 and 17 year old, WHILE getting half of Hulk's shit, most of his possessions and the house. This bitch probably hasn't lifted a finger in 20 years to do ANYTHING around the house, or for the kids. She sure liked to spend money, according to the show Hogan Knows Best.
This just takes the cake.
lol Striker lives up to his name.
Not sure what I mean by that. But apparently Matt Striker likes to send people photos of his dick.I don't know, of course there's no head shot, except for the smaller head but a few sources claims this is legit.
It's funny because I used to joke back when Striker was active in ECW, that his 'bulge' in his tights shouldn't be safe for kids to view on a family show. Vince must have been aware of this, but we know Vince has an affinity for penis jokes and naming a lot of his stars dick euphemisms.  Not that I spent an inordinate amount of time staring at some dude's junk but it was hard to ignore. Grow up.
I always thought these guys wore cups or jock straps or some kind of covering to keep their manhood looking more like action figures, but Striker obviously chose to sport his package in plain view. I would probably have a problem with this guy putting me in a camel clutch. If the pump handle slam was his finish, I'd pull a Kennedy and play sick the day I had to wrestle this guy.
Below, you'll find a link to a page with the official nude photos, and I know you homos are going to look. If anything for comparison, lol. You didn't think I was going to post fucking cock photos on MY site did you?
http://www.nowpublic.com/sports/matt-striker-nude-photos-leaked-online-former-partner
You done fapping? Back to business, fags. Speaking of guys who like to show off their penis, word is Buff Bagwell wants back in the WWE. Actually, I think he was in the WWE for a short while, I don't feel like looking.
Well, maybe he WAS in the WWE the whole time and we didn't know it! He sure did shrink when he put on the mask. I found this on what Jag calls a "newz" site lol
I was never a big fan of WCW at all. So I'll file this under 'who gives a shit'.
Jim Ross, still knows nothing.
JR and Matt Hardy and probably a host of others are commenting on the loss of Kennedy.  Apparently the guy has a lot of friends backstage. Which makes this firing even more stupid.
- It is regrettable that WWE decided to release Mr. Kennedy, that ring name will be long gone, as he was at the age to really begin to come into his own. Injuries have plagued the Wisconsin native for a good part of his career but as best I know Kennedy is 100% as we speak. Without question, Kennedy has a definable upside and he will hopefully continue his journey in this biz and make his dreams become realties. Take it from me being released isn't the end of the world and things in our lives have a way of working out for the best unless one throws in the towel and simply says "what the hell?" As I mentioned before, a change of scenery sometimes is what the doctor ordered. Hopefully this will work out for the best for all involved. For the record, I do not know why Kennedy was released and look at that matter as none of my business.
Related articles by Zemanta